Folks, in our eleventh year in Tamworth, we've decided to hold a concert in a theatre … with a Stage Manager… and a Dressin' Room, a big Curtain and a Candy Bar. We're puttin' together a Country Music show just like they do in Nashville! We'll be dressin' up to the nines and celebratin' with some very special guests. Oh… and featurin' songs from a brand spankin' new album of original tunes. We'd like to invite you to join us for a night of music and fun at The Grand Ole Pigry.
Special Guests!

Fanny Lumsden
We're very excited and honoured to have joinin' us at The Grand Ole Pigry ARIA Nominated (& our favourite to win many) Fanny Lumsden! She'll be bringin' her first bloke Dan Stanley Freeman and will be singin' some of her own and singin somethin' with us too….!
Ewe can find out more bout Fanny Lumsden 'ere.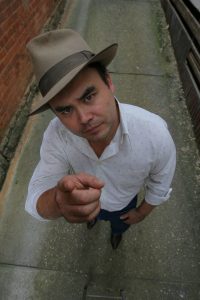 Pete Denahy
We're scratchin' ourselves all over with disbelief and shock with the news that Multi-Golden Guitar winner and distant cousin Pete Denahy will also be joinin us on this special night. He's polished his fiddle and practisin' his irish dancing and is even promising an somersault (with arms never leavin' his side!)!
Don't worry folks he'll also be doin' some tunes!
Ewe can find out heaps about him here.
STOP PRESS!!
Just when ewe thought this show can't get any better, us Pigs drop an BOMBSHELL!
Announcin' an BONAFIDE legend…..

some say he was an only child born to bluegrass aliens on another planet (mars) and travelled here on a interstellar double bass…
some say he eats only grits and never needs to go to the toilet,
some say he only has one cell,
some say he never drinks XXXX Gold,
He's old & is very proud of his sons……
Ewe mighta guessed it by now.. Its our Par!
Pig legend and matriach PAR PIG will be performin' at this one show only! (Only he knows what he'll do…)
Here's somethin' we sung with Fanny.. and our mate Red!
& Fanny's amazin' new single….
and 'ere's somethin' from our mate Pete Denahy!
and here's Par Pig… with us Pigs doin "Sofa People" (He's the one with 3 legs).
The Pigs are a one-of-a-kind musical experience. Their combination of fine musicianship and wicked humour has been enjoyed by festival-goers, TV viewers, radio listeners and motoring enthusiasts all over Australia and internationally. Don't miss The Pigs and special guests, playing cracking original music and bluegrass-fuelled cover versions of pop songs from Guns n Roses to Taylor Swift!