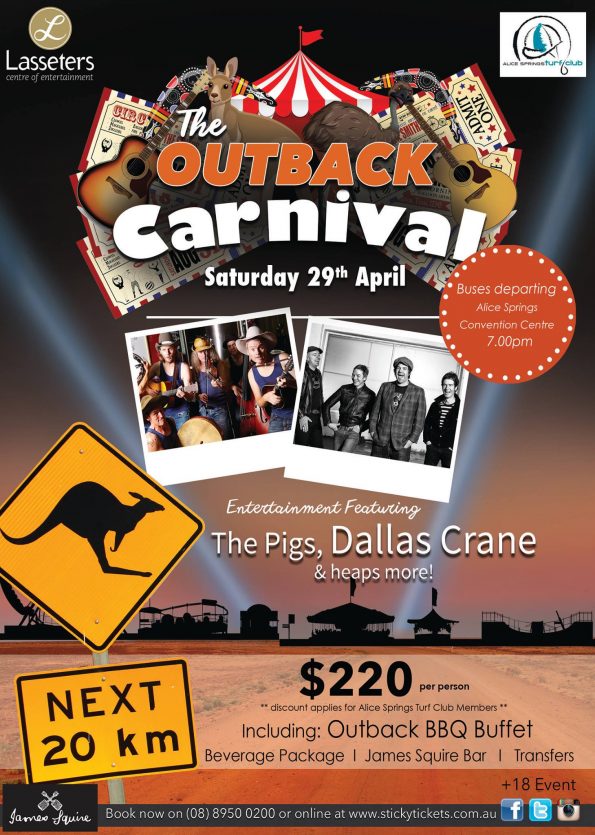 JUST ANNOUNCED… The OUTBACK CARNIVAL!
The Pigs return to Alice Springs to join Dallas Crane at the OUTBACK CARNIVAL!
All on the ITS A LONG WAY FROM CROOKED MOUNTAIN TO TAMWORTH Tour!
The Pigs are on tour this Spring Summer.. AUTUMN 16/17. Trekking from the Crooked Mountain Concert in the Warrumbungles to the annual Tamworth Country Music Festival… visiting all the logical sights on the way… and doing concerts!
Logical stops include: Melbourne, Shellharbour (NSW) , St. Arnaud (Vic), Narooma (NSW), Katoomba (NSW), Orange (NSW), Ballarat (Vic), Bathurst (NSW), Gold Coast (QLD), Canberra (ACT), Myrtleford (VIC), Brisbane, Maroochydore, ALICE SPRINGS, Sydney & Newcastle….! & now European dates are bein added.
See, makes sense don't it?
Misunderstood family band The Pigs play hillbilly pop and all things good. With a tempered history spanning 4 albums, one EP, Golden Guitar Nominations, world tours and sore feet, the band is known for its dynamic and entertaining live performances.
T-Bone, Stretch, Cousin Shamus, Cousin Montz and Cousin Bert will perform crowd-favourite tunes from 12 Years on the road. With double bass, acoustic guitars, mandolin, stand up drums, banjo and big bluegrass vocal harmonies, The Pigs' barefoot-genre-bending-energy appeals to just about anybody with a pulse!
Still not sure what The Pigs do? Check out their YouTube here.