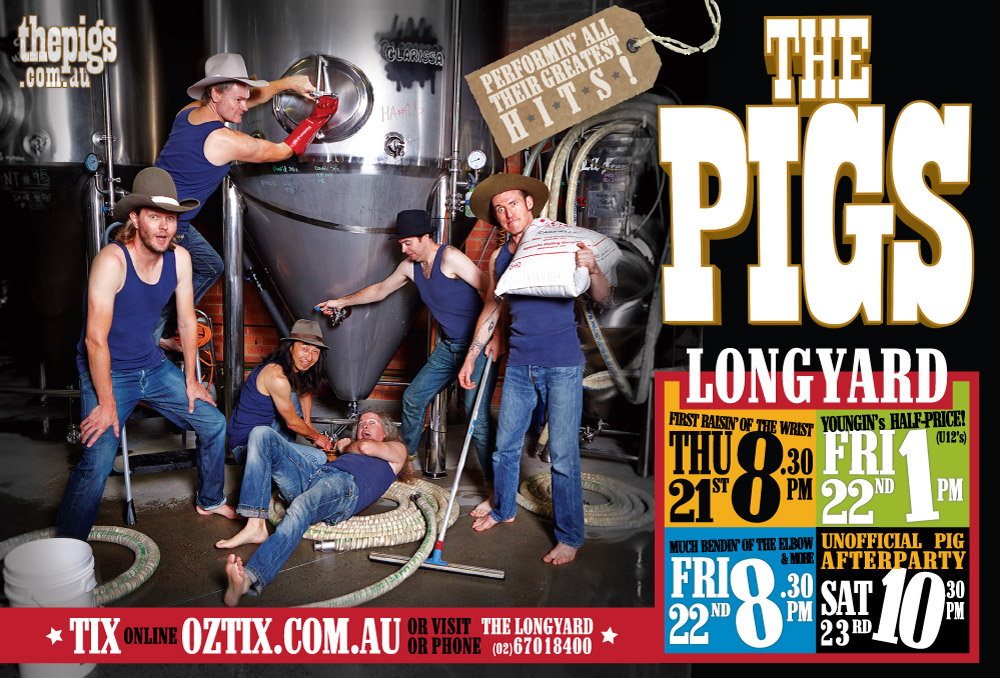 Longyard Hotel – Goonoo Goonoo Room
Thursday Jan 21st – 8.30pm
TICKETS ONLINE | Or call 02 6701 8400 | Or the venue
Support Tim Wheatley
Friday Jan 22nd – All Ages – 1pm
TICKETS ONLINE | Or call 02 6701 8400 | Or the venue
Support Tim Wheatley
Friday Jan 22nd –  8.30pm
TICKETS ONLINE | Or call 02 6701 8400 | Or the venue
Support Skyscraper Stan
Saturday Jan 23rd –  The Pigs Unofficial, Official, Afterparty! – 10.30pm
TICKETS ONLINE | Or call 02 6701 8400 | Or the venue
Support Skyscraper Stan
**Special Offer**
Grab 4 Tickets and get a free T-Shirt!*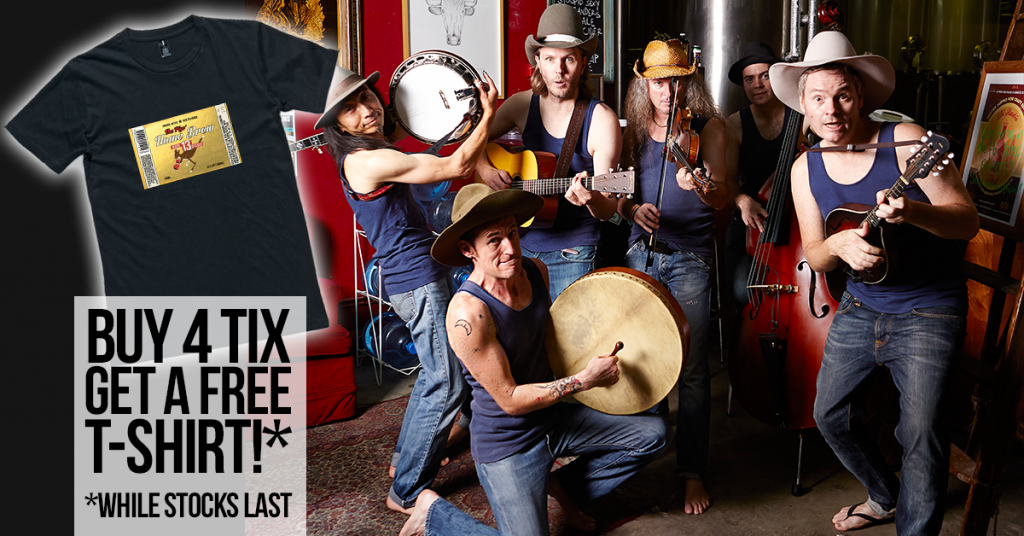 *While stocks last.. So be quick! Online Pre-Sales only. T-Shirt to be collected upon arrival at concert. *Ends Tue 19/16 9pm!
Some things go together, like beer & T-Bone, wheels and tires, men and singlets, cheese and toast, armpits and hair, armpits and no hair (ladies only), horses and saddles, T-Bone and beer, Lorraine and pure happiness, the chicken and the egg, the dog and the bone, beer and T-Bone… and… and  …
But some things were meant fir each other.. like the World Famous Tamworth Country Music Festival… and The Pigs!
(and of course T-Bone & Beer)
This year at Tamworth we're performing all our greatest hits… original anthems like Macho Moisturiser and Hey Christina… to our world famous Hillbilly interpretations from Johnny Farnham to Beyonce.. They'll all be there!
We'll also be bringing our full Pig Porkestra! Featurin' T-Bone Pig, Stretch Pig, Cousin Shamus, Cousin Montz, Cousin Oink and Cousin Archie!!!!!
Tix on sale to our biggest shows of the year. Get amongst it folks ..
---