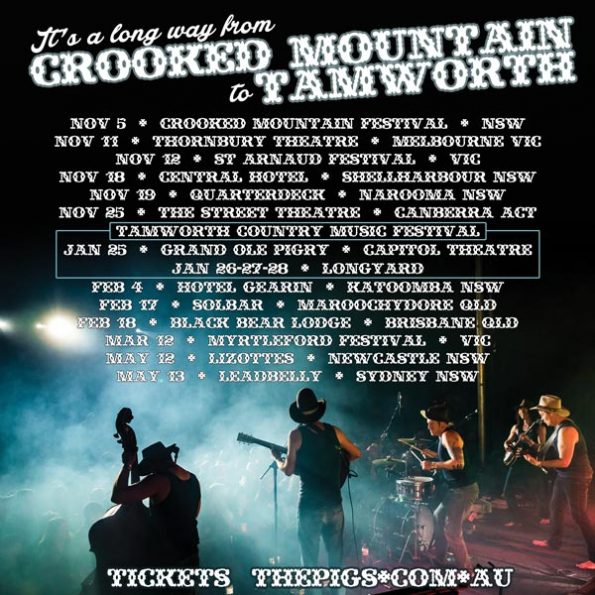 IT'S A LONG WAY FROM CROOKED MOUNTAIN TO TAMWORTH!
Especially if you're a PIG!!
The Pigs are on tour this Spring Summer 16/17. Trekking from the Crooked Mountain Concert in the Warrumbungles to the annual Tamworth Country Music Festival… visiting all the logical sights on the way… and doing concerts!
Logical stops include: Melbourne, Shellharbour (NSW) , St. Arnaud (Vic), Narooma (NSW), Katoomba (NSW), Orange (NSW), Ballarat (Vic), Bathurst (NSW), Gold Coast (QLD), Canberra (ACT)! More Queensland dates to be announced…
See makes sense don't it?
Misunderstood family band The Pigs play hillbilly pop and all things good. With a tempered history spanning 4 albums, one EP, Golden Guitar Nominations, world tours and sore feet, the band is known for its dynamic and entertaining live performances.
T-Bone, Stretch, Cousin Shamus, Cousin Montz and Cousin Bert will perform crowd-favourite tunes from 12 Years on the road. With double bass, acoustic guitars, mandolin, stand up drums, banjo and big bluegrass vocal harmonies, The Pigs' barefoot-genre-bending-energy appeals to just about anybody with a pulse!
Still not sure what The Pigs do? Check out their YouTube here.
Not all shows are announced yet for The Pigs tour… but we're too excited to wait any longer. Stay tuned here for all the latest… if yer town is on the list.. get yer tickets and we'll see ewe soon… if yer town aint on the list… pray.