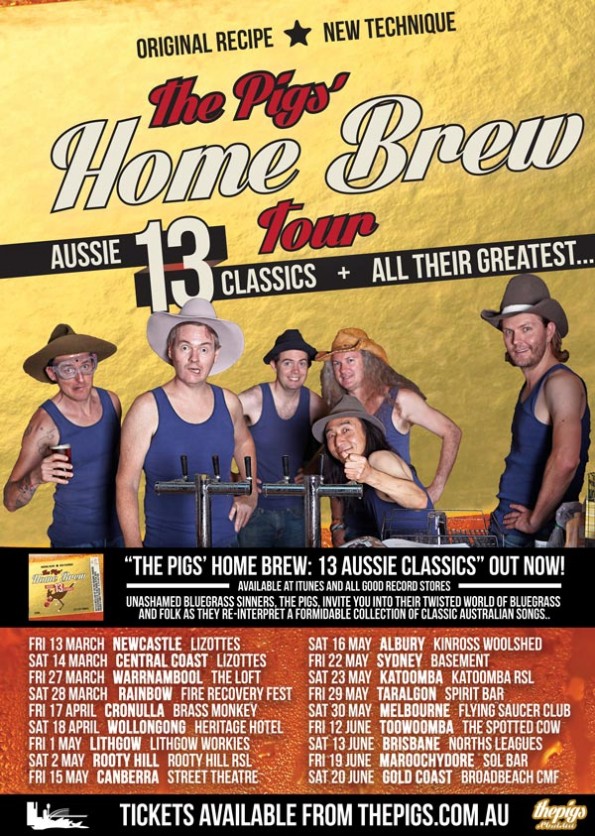 KERPOW!

We're tourin', and we're doin it our way… no distractions – like BEER or REALITY TV or BEER. Just fine music, finer friends and top-shelf beer!

We can't wait to play ewes our new hit record… and all our greatest hits to boot!!

The Pigs invite you to join them in a very special bluegrass celebration of Australian pop music, as they perform songs from their new album, The Pigs' Home Brew: 13 Aussie Classics. "We're celebrating the songs that we love and the songs we grew up with," comments T-Bone Pig, "from Cold Chisel to The Avalanches." Farnham's You're The Voice gets a wild yodeling makeover, Olivia Newton John's Physical is performed with unnatural desperation and INXS's Devil Inside has a whole lot more devil inside it.

Also expect many of The Pigs' greatest hits, taken from a career spanning 10 years, 4 albums, 1 EP, concerts all over Australia and the world, countless TV and radio appearances, squillions of beautiful fans and 4 very painful blisters. The Pigs' Homebrew Tour is an event that'll test your Reg Grundies and quite possibly, change your life.